The official podcast of the Madness American fan service, Stateside Madness, dedicated to the nutty sound of the British pop band Madness. We are the U.S. affiliate of MIS, the Madness Information Service. Check us out at statesidemadness.com, on Twitter (@StatesideMDNSS), and on Facebook (@StatesideMadness). Please note: The music clips included in this podcast fall under the "Fair Use Doctrine" as defined by Section 107 of the Copyright Act. The law allows for use of music clips for purposes of criticism, comment, and news reporting.
Episodes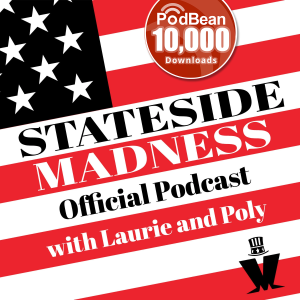 Saturday Feb 18, 2023
Saturday Feb 18, 2023
On this episode Laurie and Poly are taken on a whirlwind tour of Albino Brown's world of Third Wave Ska.  Albino founded The Ska Parade radio show and his list of friends is a veritable who's who of American ska, including Fishbone, No Doubt, Sublime, and British ex-pat Dave Wakeling. He is also an author of an upcoming book about the artwork of ska and shares with us the story behind the iconic Beat Girl logo and the Madness comics in the 80s. This unique interview is not to be missed!
Songs in this Episode:
"Ma & Pa" – Fishbone
"Date Rape (live)" – Sublime
"Just a Girl" – No Doubt
"Age of 5" – The Equators
"Razorback" – The Skeletones
"Baggy Trousers" – Madness
"Blue Beat Baby" – Brigitte Bond & The Bluebeats
"One Step Beyond" – Madness
"Softly Softly" – The Equators
"Our House" – Madness