The official podcast of the Madness American fan service, Stateside Madness, dedicated to the nutty sound of the British pop band Madness. We are the U.S. affiliate of MIS, the Madness Information Service. Check us out at statesidemadness.com, on Twitter (@StatesideMDNSS), and on Facebook (@StatesideMadness). Please note: The music clips included in this podcast fall under the "Fair Use Doctrine" as defined by Section 107 of the Copyright Act. The law allows for use of music clips for purposes of criticism, comment, and news reporting.
Episodes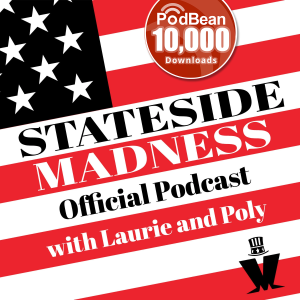 Saturday Mar 04, 2023
Saturday Mar 04, 2023
This week, Laurie & Poly sit down with John Hasler, who is known to fans of Madness as the original Bed & Breakfast Man. John was with Madness from their earliest days as the North London Invaders, and since that time he has worn many hats: drummer, lead singer, and ultimately manager of the band. This is a great interview that Madness fans should not miss! 
Please check out John's band CRABS! on Bandcamp: https://getcrabs.bandcamp.com/album/get-crabs
Songs in this Episode:
"Bed & Breakfast Man (John Peel session)" – Madness
"Mistakes (rehearsal tape 1979)" – Madness
"Believe Me" – Madness
"Stepping Into Line (John Peel session)" – Madness
"One Step Beyond (live)" – Madness
"Nutty Sounds (rehearsal tape 1979)" – Madness
"Don't Quote Me On That" – Madness
"Baggy Trousers" – Madness
"Cripple Creek" – Skiff Skats
"Baby Don't Surf" – CRABS!
"Buona Sera" – The Lockdown Allstars (ft Chris Foreman & Big Jim Paterson)