The official podcast of the Madness American fan service, Stateside Madness, dedicated to the nutty sound of the British pop band Madness. We are the U.S. affiliate of MIS, the Madness Information Service. Check us out at statesidemadness.com, on Twitter (@StatesideMDNSS), and on Facebook (@StatesideMadness). Please note: The music clips included in this podcast fall under the "Fair Use Doctrine" as defined by Section 107 of the Copyright Act. The law allows for use of music clips for purposes of criticism, comment, and news reporting.
Episodes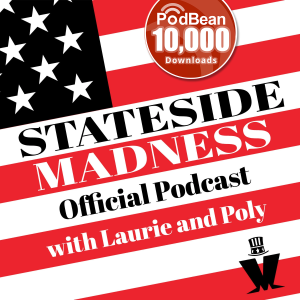 Saturday May 13, 2023
Saturday May 13, 2023
In this week's podcast, we do a track-by-track deep dive of Madness' April 2023 Record Store Day release, "I Do Like to Be B-Side the A-Side, Vol. 3." This episode is a  "Bittersweet" one for us because this will be our last regular episode of the podcast. We will occasionally drop a new episode if there is something big (such as a new album release or American tour), but no more biweekly episodes. 
Poly & Laurie would like to thank everyone who has supported us over the past three years: our Stateside Madness team members, Donald and Bobby; M.I.S.; all the fantastic guests who have kindly allowed us to interview them over the years; and most of all, YOU, the listeners. 
Here's hoping for a Madness American tour in 2024....